Options and Settings
Add Report
Adds a report from a different location.  Select this option to copy a report from a different drive or folder.  Add Report support 3 file types: .REPX, .DSSX, and .ZIP. 
Other Reports
All you to execute a report from a different location other than your report directory.  You also have the ability to edit the report. See Screen
Download Report
You can download a report from a Web URL and the report will be placed in the Report Folder. Optional User Name and Password area if needed. See Screen
Saved Connections
Saved Connections are for quick and easy use of data connections.  More Information
Sage 50 DBQ Grid
Shows DBQ Names and Data Locations.  You also have the ability to delete DBQ Names.  More Information
Sage 50 DBQ Create
The ability to Create DBQ Names for Sage 50, Peachtree Accounting, Pervasive, and Actian Database Connections.  Also provides the ability to create a Stored/Saved Connection.  More Information
Browse Report Folder
Opens a File Explorer Window to your Report Folder.
Program Settings
Changes the default options for DSStudio Viewer.  More Information.
Install Fonts
Install various Fonts used by DSStudio.  You may need administrator rights to use this option.  This is optional as most reports requiring special font will be included with your purchase.
Check for Update
Will check and install an update to DSStudio if available.
About this Program
Display an About Window with program version information.
Download from URL
Enter the URL address in the Web URL File.  This would be something like: 
https://dscorp.com/coolproducts/sample1.dssx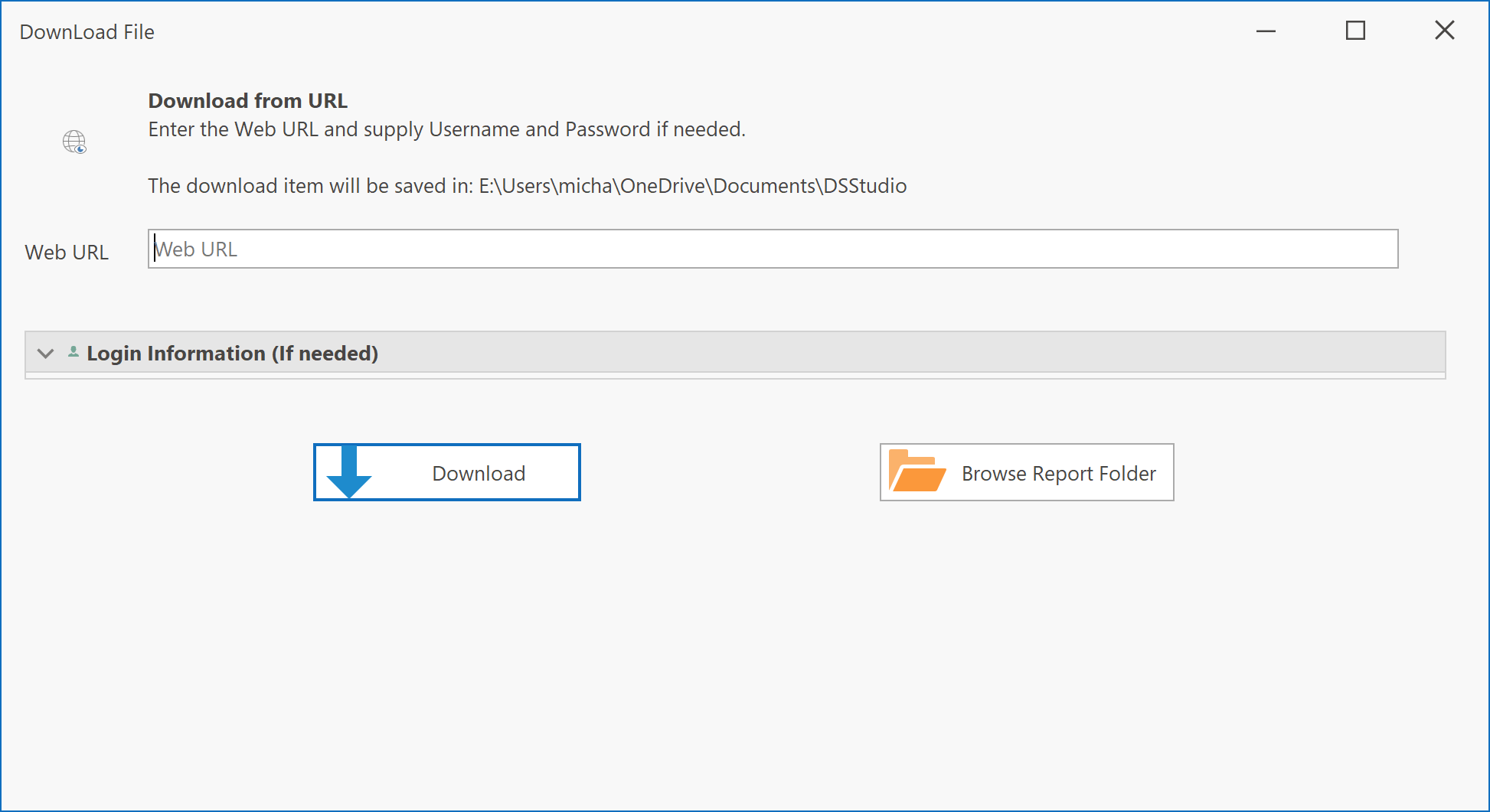 If your Report Provider requires an User Name and Password.  Click on the Login Information arrow to open the login information area.  Enter your login credentials.
Other Reports Menu
These options are for reports that is not located in your normal report folder.  Provides the ability to run and edit reports on other computers or mapped drives.
Select Run Report File will prompt for a report to run.
Edit Report Settings will prompt you for a report file to edit.